The Top 5 Logo Designs in Beverly Hills
The key to creating a successful logo is to ensure that it is recognizable as a symbol on its own.
The five companies listed below have created successful logo designs, brand recognition, and a luxurious brand image.
1. Chanel
Chanel is easily considered one of the most renowned luxury fashion brands, maintaining a pristine brand image.  There are various anecdotes on how this fashion house's logo came about, however, it has remained the same since the early 1900s. The interlaced curves of the two Cs give it a close resemblance to a jewelry chain—a very prominent feature in their handbags.
2. Louis Vuitton
Louis Vuitton is one of the oldest fashion houses, founded in 1854. Its standard logo features a heavy juxtaposition between substance and simplicity. The layering of the two letters gives it a classic and timeless feel, recognizable on its own. Additionally, the logo found on the house's popular prints, inspired by Japanese flowers, was designed to stop counterfeiters.
3. Hermés
Hermés originally opened as a harness workshop offering quality harnesses/ bridles for carriage trade. The history of this luxury brand clearly explains the current logo of a horse and carriage, which it has maintained since the 1950s. This brand clearly focuses on history as a selling point and does it well.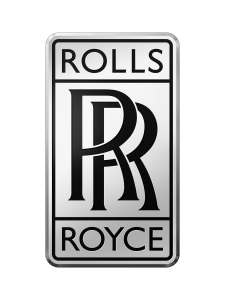 4.  Rolls-Royce
Rolls-Royce is one of the most prestigious luxury car brands in the market. Apart from the logo being two Rs, there is a symbol known as the "Spirit of Ecstasy". It not only represents a muse but also the spirit of the car: power, strength, and speed.
5. Porsche      
Porsche is a renowned sports car brand that has maintained its influence and brand recognition throughout the years. Its logo was established in the 1950s and has not changed since. The design of the logo is meant to represent its German origin, and more specifically is a dedication to the city it was designed in, Stuttgart. The main symbol, a horse, represents the dynamic, powerful identity of Porsche.
About Branding Los Angeles:
Branding Los Angeles is a top-rated digital marketing agency based out of Beverly Hills, CA. The logo design Los Angeles experts have over a decade of experience in creating eye-catching, amazing logos. To learn more about us, please visit our website at www.brandinglosangeles.com/print-design/logo-design/
Read similar logo design Los Angeles  blogs such as:
Share This Story, Choose Your Platform!