Door hangers are an effective tool to market the products and services of your Los Angeles business. Reach more people with custom door hanger design and print services. Using door hangers as an effective space to market the products and services of a business is growing in popularity as a print media marketing strategy for a huge range of businesses.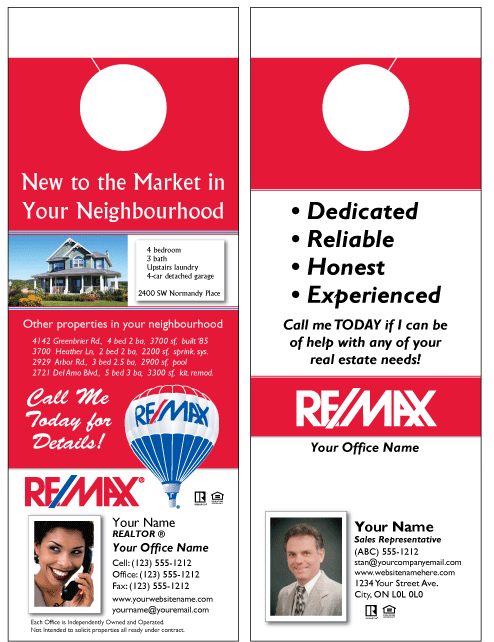 The real estate industry, in particular, has been quick to take advantage of the opportunity offered through the use of over the door hangers on residential properties. In addition to real estate, we have been able to support a wide range of industries in designing and implementing door hanger campaigns, from medical/dental and legal through to restaurants and local authorities. For many businesses, the addition of a door hanger campaign has yielded great results. Put simply, having a well-designed door hanger that promotes a particular service is an easy way to grab the attention of both existing and potential customers.
Branding Los Angeles as a full-service branding and marketing company has a team of designers and marketers that produce custom door hangers that generate outstanding results. Having taken the decision to add over the door hangers to your print marketing campaign, the layout and design of the staples themselves are of critical importance. The graphic design work must integrate well with your existing branding whilst also distinguishing itself, especially when it is promoting a specific product or service offered. As experts in branding Los Angeles businesses, our team of designers will work in close collaboration with you to design and produce a door hanger campaign that will get results. We are also in a unique position to be able to assist in the distribution of the hangers within Los Angeles County and Orange County on behalf of your business.
If you run a Los Angeles business and are thinking about adding this dynamic advertising medium to your campaign, don't hesitate to contact us to discuss how we can help. We also offer a full range of branding and marketing services which cater specifically to the needs of businesses that operate in Los Angeles. Our local insight and talented marketing team can take your campaigns to the next level.
We are here to help!
Contact us today (310)479-6444