Is your website your most powerful marketing tool?
From an outside perspective, search engine optimization can seem like a daunting prospect for any new business. There are many elements which need to work in a coordinated way in order for a company to be noticed by search engines such as Google, Bing, and Yahoo: From keyword research through to XML sitemaps and optimized content creation. Added to the many elements is the fact that SEO is dynamic in nature and in a state of constant flux, with something that was working to help a website rank just a few months ago not necessarily having such a drastic effect in the face of updates to search algorithms. Keeping on top of SEO while running a business can be hard, and requires a huge time investment, taking valuable time away from product and service development. Branding Los Angeles as front runners in the field of online branding and marketing are experts in knowing what works and what doesn't when it comes to Los Angeles SEO.Our SEO services can help your business get the extra visibility needed to help your project grow.
Why is SEO services in Los Angeles so important though?
In the past, if you had a great product or service it would likely grow organically through word-of-mouth or traditional print marketing campaigns. Although both of these elements remain extremely important, today when people want a product or service they go looking on the web. There has been a shift in consumer tendencies, with people wanting to research the numerous different options online, before deciding which they prefer and going directly to the business that best provides what they are looking for. The bottom line is that customers are increasingly educated and will investigate before committing to buy or even interact with a company so being visible online is the first step that needs to be taken by anyone looking to grow their business.
SEO is one of the things that distinguishes a business, you can have the best product or service out there, but if no one can find you online it may ultimately count for little. The difference between appearing on the first page of search results and the fifth can have drastic effects on both visitor numbers and sales.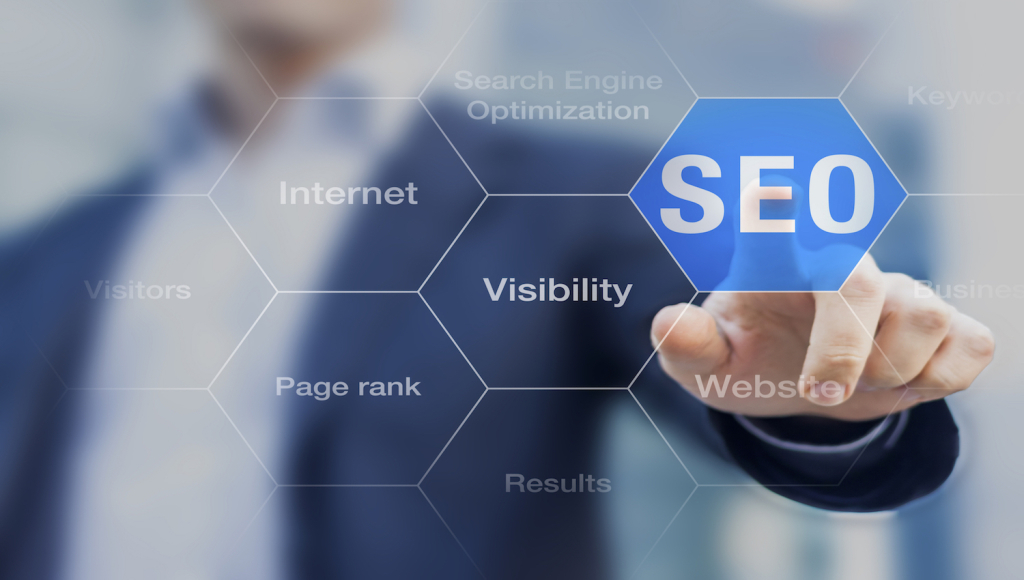 What are some of the main things that contribute to SEO?
SEO today is increasingly becoming more content focused, meaning the importance of having relevant, engaging content on your site which is updated regularly is significant. Content is now shared and dispersed on the web through social media channels and this aspect is currently exploding in terms of SEO. Social media pages are indexed by the major search engines and will appear in search results which in addition to driving traffic to your site, gives your customers another area of direct interaction. It is also another space on which to focus your marketing and branding efforts. In addition to social media management, manual directory submission, press release marketing and social bookmarking are all important off-site SEO elements.
The content on your website needs to be SEO friendly, meaning that it is optimized for certain keywords, letting search engines know what you are all about and helping people to find you when searching for relevant terms. When it comes to content, the blog on your site should be a key area of focus. A well written and well-structured blog will do more than just increase your ranking for certain seraph terms. It also gives you the potential to interact with people and online communities that are interested in your products or services and generate incoming links to your site from other places on the web. Other key on-site optimization areas include meta tags optimization, alt tag changes, keyword density and interlinking of the site.
I want to have top-notch SEO for my Los Angeles Business, what now?
Branding Los Angeles, as market leaders in the sector and having worked with a huge range of businesses, is in a unique position to help. We are known for being the best SEO company in Los Angeles. Our team of Los Angeles SEO experts takes an integrated approach to building a robust web presence, focusing on the full range of elements that mark the difference between having a strong successful brand and one that goes unnoticed. SEO in LA is just one of the many aspects that require an expert team in order to have a thriving online presence, and by understanding and bringing together the other crucial elements, we offer a break-through level of service. If you are serious about SEO services in Los Angeles, get in touch with us to find out how we can put your business on the fast track to success.
Contact a Project Manager