The Champs Trade Show
The CHAMPS Trade Shows allow for those of us in a niche market to converge in a way that supports each other. This is accomplished by bringing together like-minded people with the same passion and determination in a place that allows businesses to market to each other, share resources and ideas, and make each other better by building each other up instead of tearing each other down. As a business that deals in merchandise that may often be considered counterculture, it can be difficult to navigate your way in the market and fully utilize the resources that are available. Here, small business owners can learn and get advice from experts who have built up their businesses into larger industries.
---
Since 1999, The CHAMPS Trade Shows have been held annually in Chicago, Orlando, Atlantic City, Denver, and Las Vegas. CHAMPS Trade Show has been a place where the smoke shop community can come together and build mutually beneficial relationships. It is a purely a business-to-business exhibition that showcases a multitude of different brands and businesses from across the country. Everyone from manufacturers, wholesalers, artists, distributors, inventors, glass blowers, suppliers, and more will be there making it the optimum place for buyers and sellers alike to converge. 
---
CHAMPS is an exclusive way for your business to come face-to-face with other businesses and potential clients. Once you have registered and have been verified, you also gain access to CHAMPS trade shows green pages. Their Green Pages are their trade show directory. This allows buyers that have been verified to have full access to a catalog that has the list of vendors that have attended the show in the past and the log is updated after each show. 
---
The annual Glass Games are a fan favorite, where skilled individuals and businesses compete for a cash prize showcasing their glass blowing capabilities and artistic insights with competitors' taking home thousands of dollars in cash prizes at the CHAMPS trade show!
---
Things to Know Before You Go
CHAMPS has free admittance, however because it is a purely business to business event it is not open to the public and anyone attending must bring two forms of valid business identifications in order to be admitted into the show.

Forms of accepted business identification are:

Seller's permit

Reseller's license

Tax ID

State Certificate

Business License

Article(s) of Operation

Tobacco License 

Tobacco Permit
Secondary forms of accepted business identification are:

A credit card invoice that shows the company name and address.

Business credit card purchase order that shows the company name and address.

Business credit card.
Only 4 people per business may attend a show at a time. Additional people will have to pay a fee to attend.
CHAMPS also makes it a point that they reserve the right to refuse service or admittance to anyone for any reason. 
In order to attend the show you must be at least 18 years of age or older and provide proof if requested.
Provided that your business permits and or licenses are up to date, if you are approved for one of

CHAMPS Trade Shows

, you are approved for ALL of their shows. In order to attend you must fill out the buyer registrations form

here

. 
Once you have registered online, double check to make sure that your business is in the system to make sure that you're cleared to go and to make sure that you do not need to submit alternative or additional forms of identification.




---
Contact
If you need to contact The CHAMPS Trade Show, you may visit their website at www.champstradeshows.com or call them at 818-855-1528.
---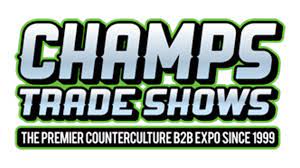 If you or someone you know has a business that would be a good fit for CHAMPS Trade Shows and wish to become involved, visit their website and fill out the registration form and get started! We at Branding Los Angeles offer branding and marketing services that may also help get your business off the ground. We have the resources and the ability to help launch your business, gain traction, and keep it. When it comes to your business you have enough to worry about, let Branding Los Angeles take care of the rest. Visit https://www.brandinglosangeles.com/ for more information or call (310) 479- 6444.
---
Share This Story, Choose Your Platform!