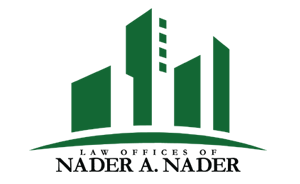 The Company:
The Law Offices of Nader A. Nader focuses on resolving property disputes; specializing in evictions, landlord/tenant disputes, boundary disputes, real estate litigation, and land use/zoning practices.
Website: Nader2Law.com
Phone: (818) 697-2470
Location: 14545 Friar Street, Suite #102; Van Nuys, California, 91411
The Project:
Law Offices of Nader A. Nader wanted to improve their brand by updating their logo and developing a new website. They also wanted to implement a strategic marketing plan to attract their target market and potential customers.
The Approach:
To help with their branding, our graphic design team met with the client to better understand their business goals. After learning more about the Nader Law company, our graphic designers created logo samples that were sent to the client for approval. After Nader Law's logo was created, the web design team developed a website that strongly represented the brand. Once the website and logo design were in place, we created a strategic marketing plan that raised brand awareness.
The Results: