Panera Bread Says 'No Guns'
The Panera Bread CEO has put a ban on bringing guns into Panera Bread locations | Restaurant Marketing
Panera Bread's 'no guns' announcement is indicative of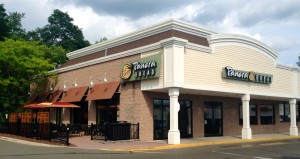 a firm new stance against gun violence that many brands are taking. Panera Bread has made this announcement as part of their dedication to providing a wholesome, inviting atmosphere for their customers. It was a bold move taken by the company and it sent a clear message to the community, "Guns have no place in a bakery. It's just that simple."
Because of the alarming trend in gun violence, many corporations are starting to take a similar stance on gun control. Panera Bread is just one of many coorporations who have gun restrictions on their premises . Other corporations who have made similar decrees include Starbucks and Target.
Panera Bread emphasized that they respect gun owners' rights to bear arms. They simply ask that guns not be brought into their location.
A major influence of the Panera Bread ban on guns is their branding. They are a warm and inviting brand that represents a wholesome, comfortable atmosphere. Bringing guns into their location simply goes against everything their brand stands for.
"There is no reason a person should bring a firearm into a bakery, unless they are a law enforcement agent."
The Panera Bread Corporation currently has over 1800 outlets and is quickly establishing itself as a major brand player. They are a $4 billion company who has cemented their reputation as a wholesome brand  who provide a home style environment and who focus on customer care. This decision to ban guns simply is an extension of their brand philosophy.
Panera Bread has been applauded by the community for their stance on gun control. This decree may incite anger by many gun activists, and many people recognize that Panera Bread has taken a bold stance and are willing to deal with the potential backlash.
Share This Story, Choose Your Platform!