How and Why Your Restaurant Should Sign Up For Door Dash
Loyal customers are more than 53% of a restaurant's delivery business. Meaning, more than half of those that request delivery will likely order again, especially with these restaurant marketing tools.
Our On-Demand Economy Calls For More Convenience
When it comes to ordering food, no one wants to wait in line. Customers have become more accustomed to convenience now that we have mobile apps that send food right to our doorstep. With their favorite restaurants right at their fingertips, customers won't mind paying delivery fees because they don't have to leave their house to pick up their food. It is a win-win for customers as well as businesses looking for restaurant marketing tools.
Become a DoorDash Restaurant Partner
If you're a local business, you're going to want to be part of this new wave! If you don't offer home delivery services already, you can sign-up for DoorDash by doing the following:
Step 1:
Click on this link and go all the way down to the footer of their website. Next click on "Be a Partner Restaurant."
Step 2:
Fill out the form with your information.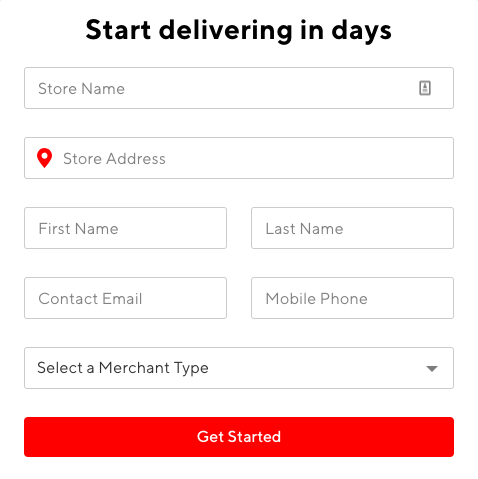 Step 3:
Door Dash will contact you and ask for additional information about your restaurant. They will also set a commission for orders placed at your restaurant. It can be as high as 20% but depending on the order.
Step 4:
Once you're approved, you can start receiving orders from customers as soon as this week! When you start getting orders, you can access sales analytics by requesting them from DoorDash or through the app. By also being a part of the app, your restaurant becomes more visible.
There are over 8,500 restaurants in Los Angeles, and standing out from the crowd can be difficult especially if you don't have the right restaurant marketing tools. At Branding Los Angeles, we offer all the tools you need to get more foot traffic to your restaurant. When you sign up for DoorDash you're going to need appetizing product photos. Moreover, your reputation on Yelp and other review websites need to be up to par if you want new customers. In addition, if customers have never been to a restaurant, they're more than likely going to do a quick search to see where they're ordering from. As a result, you want to have an optimized and user-friendly website that shows up on the first page of Google.
About Branding Los Angeles:
At Branding Los Angeles, we're the creative force that can help take your restaurant brand to the next level with our restaurant marketing tools. We are the leading providers of web design, SEO and much more. Contact us today to learn more about our marketing services.
Share This Story, Choose Your Platform!