BMW vs Military Aircraft Carrier Equals Branding Gold
BMW is taking brand name recognition to a whole new level with a creative new marketing campaign involving speeding around in a new M4 Model on board a military aircraft carrier. As if barreling around a traditional racetrack were not hair-raising enough, try doing it with the threat of plummeting off the edge of a Navy ship and into the ocean's waters below.
In the innovative "Ultimate Racetrack" commercial advertisement, we see an obscured stunt car driver wearing his ominous, black driving gloves while fishtailing and spinning the new BMW M4 at high speeds around an impressively redesigned deck of a US aircraft carrier made to look like an otherworldly speedway. Now this is ingenious branding that really grabs consumer attention.
Driving the online dialogue of this inventive marketing campaign is whether or not the racetrack enhanced ocean vessel is real or fake. Some viewers are quick to point out the absurdity of rounded edges on any "real" aircraft carrier. But is this the "real" issue?
After all, whether the racetrack is real or simulated, the commercial is a viral sensation. Millions of people are viewing it, very often multiple times, looking for proof of the fakery or authenticity. And with each click of the mouse, every share of the video on social media, viewers are still getting a gander at the impressive BMW M4, whether they like it or not.
Of course, BMW has been hounded by consumers and the press alike, demanding to know the level of authenticity of the augmented aircraft carrier. But BMW' Chief Creative Officer, Andrew Simon, only offers that perfect marketing ploy as a response,
"One thing that is for sure…M4's dynamic performance on the Ultimate Racetrack is thrilling viewers all around the world…"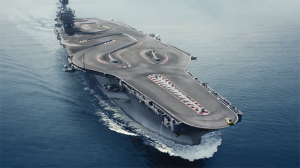 Watching that speeding car drive so dangerously close to the edge of that massive ship is as white knuckling as it gets, wondering if the new M4 is going to stay on board or drive right off the edge. And BMW is reaping the branding benefits to levels that are matched only of those of the increased adrenaline rushes of its millions of viewers.
Share This Story, Choose Your Platform!