Uber Wants To Make Your Life Easier
Uber has never identified itself as a transportation app, which is what they have long been associated as. They have called themselves a technology and logistics provider. With the launch of the redesigned app they will be exactly that.
Uber will be pushing forward with its mission of making it all about you and your needs from the first to the last mile. All the while making it easier to use and incorporating machine learning to predict your needs.
Machine Learning
The new app will have the same interface that its 40 million worldwide users will recognize but with a few major upgrades. The new app takes advantage of machine learning to understand you and your routines. New featured shortcuts will recognize your patterns, making it easier to schedule a ride and get to your desired destination. The new calendar integrations will sync with the calendar app on your phone and suggest shortcuts based on any upcoming appointments. With these upgrades Uber wants to give you your time back by eliminating the use of third party apps. The new integrations won't have you jumping from app to app or force you to reschedule the same ride time after time. The shortcuts will turn all of these into simple click options.
Stress Free Ride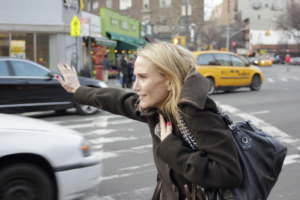 Over the years and millions of completed rides later, Uber has collected quite a lot of data on its riders. It plans to use this information to make ordering a ride easier and reduce the amount of stress required. By analyzing traffic patters and road blocks it will advise you on the best pick up points and shortest routes. Uber feels that over the years their app has become too cluttered with all the choices to make when ordering a ride. Those choices will still exist except now it will allow you to pick between functionally based categories depending on what kind of car is necessary for your ride. It will also display the fares up front, provide you with a pick-up time, and how long it will take to reach your location.
Mobile Meeting Place
Typically your destination is a physical location but on many occasions we are going to meet a friend, family member, work colleague, etc. Often times their locations change multiple times before you are ready to meet them. Uber has taken this into consideration. A new feature will allow the person you are meeting to connect and share their location for 30 minutes, even if they don't use Uber. This allows you to reach that person via this connection without having to call them to coordinate.
Other Integrations
There are several other social media integrations that may not be available yet but will be in the next few weeks. Some of these integrations will include: Snapchat, Pandora, Yelp, Uber Eats, and Foursquare. So you can prove to your friends that you are on your way with Snapchat, order food with Uber Eats, or control the driver's radio with Pandora.
The new Uber app has been designed around your needs, efficiency, and simplicity. After selecting your destination the ride will be completely tailored to you.
Share This Story, Choose Your Platform!