The Sweetest Type of Branding: Candy Logo Design
Our favorite chocolate manufacturer of several past generations, the Hershey Company, is unwrapping a brand new corporate logo design that the company hopes will be more in line with current branding strategies.
The new logo will now include the well-known Hershey's kiss, but in a simpler, more up-to-date flat silhouette. By stripping away the silver foil wrapping from the previous logo, the hope is that the new creative design will underscore the company's transition in the past decades from a mere chocolate maker to a global confectionary and snacking giant.
The new design will also be more in step with the logo found on the popular selling Hershey Bar, removing the apostrophe and the "s", to form the word "Hershey" rather than "Hershey's". New colors are also being included in the revamp, colors that are inspired from some of the company's top selling products like Hershey Bars, Reece's Pieces, and Ice Breaker's Candies, bringing a more consistently recognizable branding element to the entire Hershey product line.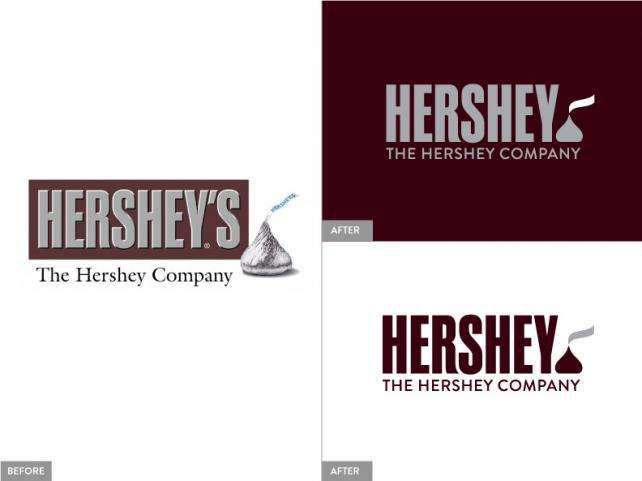 The new corporate logo design was created by the company's own Hershey Global Design with a bit of assistance from Alexander Design Associates of New York and the goDutch Corporation of Cincinnati.
A Hershey spokesman has stated,

"The new branding will impact all visual aspects of how The Hershey Company presents itself, from consumer communications to websites to the interior design of its office spaces and the look of its retail stores."
The new logo is an attempt to remain true to their rich history as a leading chocolate maker while reflecting a more modern and approachable appeal of a company that is open and transparent. Even though the changes are very slight, the new logo is attracting a great deal of attention by the more noteworthy corporate logo professionals around the world.
Many are taking notice of the cradling of the "S" within the "R", and most agree that the flat kiss design will be more easily recognizable in a wider range of formats of both single and multi-colored functions.
Share This Story, Choose Your Platform!