How do I design a business card that people will keep?
A custom logo design agency understands the important role business cards play in creating a lasting impression on potential clients and partners. By meticulously crafting every element, from the logo placement to the choice of colors and materials, our agency designs business cards that people not only keep but that will also serve as a symbol of creativity and professionalism – a representation of you and your organization.  
Although we are in the digital age, personal connections often begin with a physical token, the art of designing a memorable business card has never been more crucial. Be memorable!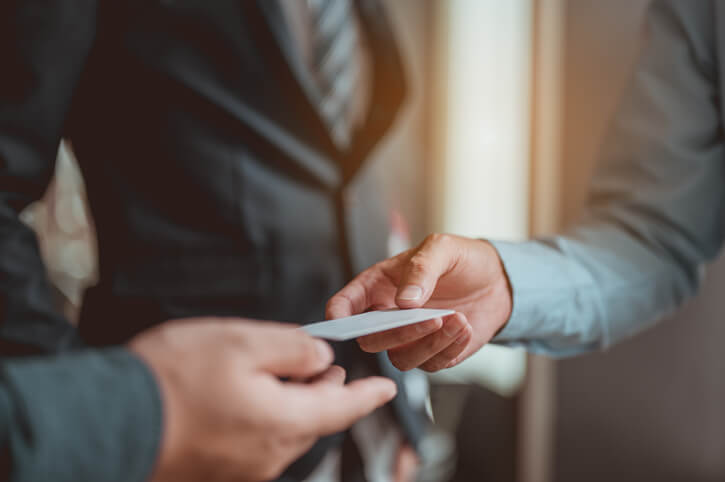 WHAT IS LOGO & BUSINESS CARD MARKETING?
Business cards and logos are foundational elements in branding and marketing, succinctly but effectively expressing a company's identity. Let's explore the fundamentals of logo and business card marketing to learn how these components are essential for defining a brand's identity and fostering fruitful relationships with customers and partners.
YOUR LOGO IS YOUR BRAND AMBASSADOR
A logo serves as a symbol of a company. It distills a company's essence—its core beliefs, purpose, and distinctiveness—into a single, enduring image. An expertly created logo serves as a brand ambassador, projecting competence and dependability. It turns into the public face of the company, instantly recognizable and connected to the goods and services it provides. When strategically designed, logos can evoke particular feelings and perceptions in customers, changing how they view a brand. Designing a logo is essential to marketing because it establishes a brand's identity.
BUSINESS CARDS AS NETWORKING TOOLS
On the other hand, business cards are physical representations of a brand's identity. They include the logo, contact information, and occasionally a tagline or a succinct list of services, along with other important information about the company. Business cards are effective networking tools, not just simple pieces of paper. They leave an enduring impression when spoken during gatherings, activities, or chance meetings. A carefully crafted business card reinforces the brand image and leaves the recipient with a lasting impression. Business cards are an essential component of marketing strategies because of the design, paper quality, and overall aesthetic appeal of the cards as well as the information that is printed on them.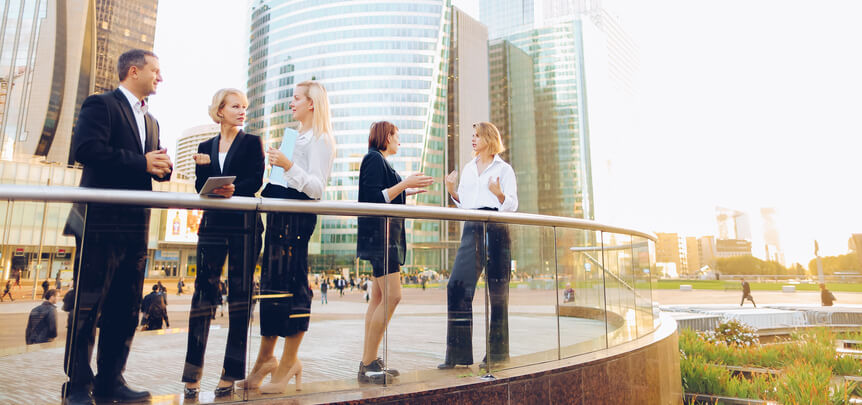 THE SYNERGY BETWEEN LOGOS & BUSINESS CARDS
Marketing with a logo and business cards is all about coordinating these components. The logo is more than just a decorative element on a business card; it serves as a link between the brand's physical representation and its symbolic identity. The business card and logo must be designed, color-schemed, and typeset consistently. These components work together to form a unified brand identity that improves brand recognition. The business card, which carries the logo, transforms into a transportable marketing tool by disseminating the brand's message.
CREATING LASTING IMPRESSIONS
Marketing with a logo and business cards that stand out aims to leave an impression. A professional business card and a well-designed logo can make a lasting impression on customers and partners. It conveys not only the company's contact information but also its dedication to excellence and attention to detail. In a world dominated by digital communication, a thoughtfully designed business card stands out, enhancing the significance and memorability of in-person interactions.
HOW DO I DESIGN A BUSINESS CARD THAT PEOPLE WILL KEEP?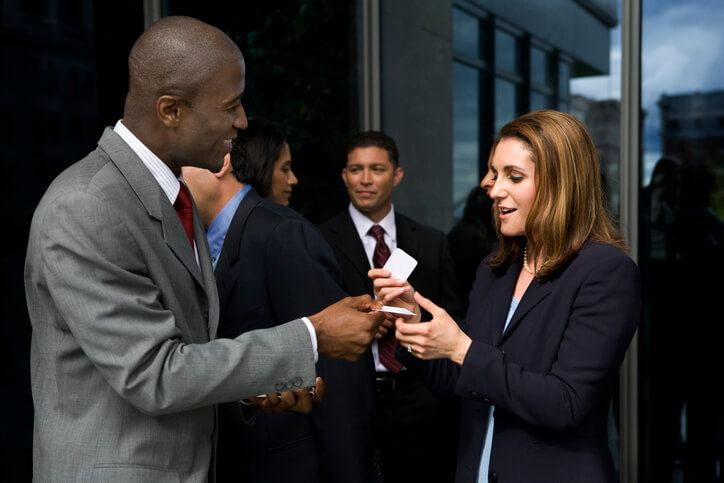 UNDERSTANDING YOUR BRAND IDENTITY
Understanding your company's brand identity is crucial before diving into design concepts. Define the typography, colors, and overall look of your brand. Brand recognition is facilitated by consistency across all branding materials, including business cards.
INCORPORATING YOUR CUSTOM LOGO
Your company's visual identity is represented by its logo. Make sure it is clearly visible on your business card. Try out various placements, sizes, and background colors to see which best increases the appeal and visibility of your logo.
CHOOSING THE RIGHT COLORS & TYPOGRAPHY
Colors can elicit feelings and send messages. Choose hues that complement your brand's identity. Likewise, pick legible fonts that convey the character of your brand. A visually appealing contrast can be achieved by using a clean, readable font for the most important information and a stylized font for the name of your agency.
OPTIMIZING CARD SIZE AND MATERIAL
The typical size of a business card is 3.5 by 2 inches. While you can stick to the standard size, think about unusual shapes or materials that reflect the creativity of your brand. To add a special touch, play around with textures, embossing, or even unusual materials like wood or metal.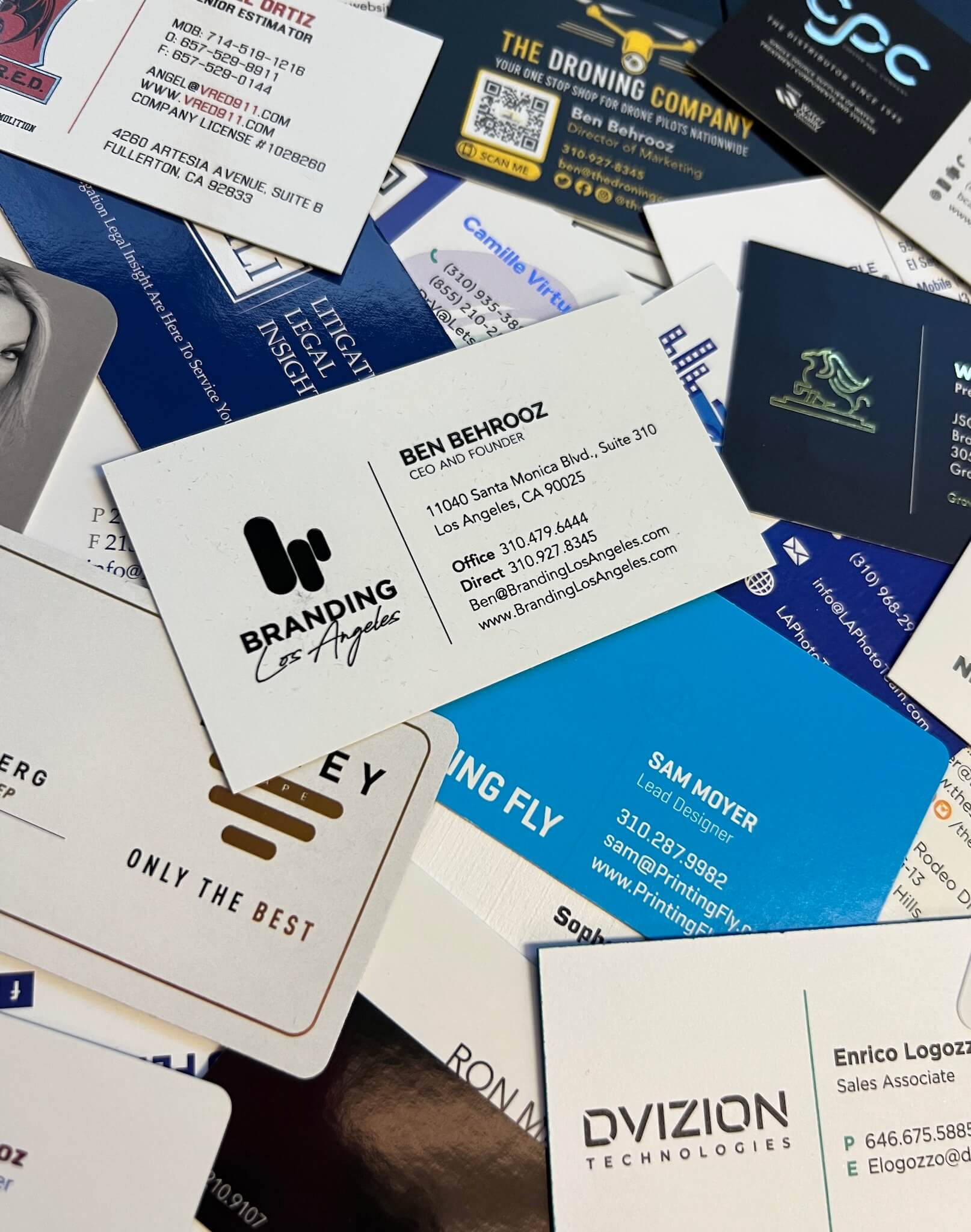 CRAFTING COMPELLING CONTENT
Keep your content focused and brief. Specify the name of your company, your name, your position title, a phone number, an email address, a website, and social media handles. Put a short tagline or a QR code that leads to your portfolio on the back of the card. Make sure the text is clear and easy to read by using high-contrast colors.
UTILIZING ENGAGING VISUALS
Include images that reflect your design expertise. Think about including tiny icons or graphics that represent your services. 
ADDING A PERSONAL TOUCH
Your business card can become memorable by adding handwritten notes or personalized touches. On the card's reverse, think about writing a handwritten "Thank You" note or a special message. This human touch adds warmth and elevates the recipient's sense of worth.
ENCOURAGING INTERACTION
Include a call to action that invites customers to interact with your brand. It might be a promotional code, a free consultation offer, or access to only available information. Make sure the CTA complements your offerings and compels the recipient to proceed.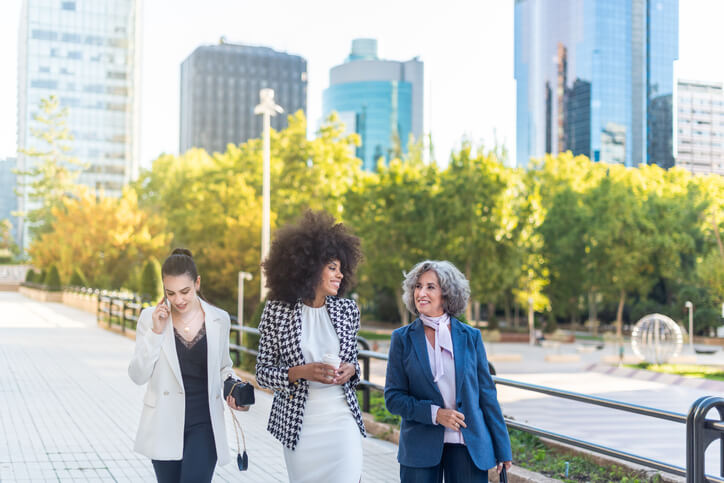 QUALITY PRINTING AND FINISHING
Spend money on expert printing services. The perceived value of your business card can be increased by using high-quality printing and finishing techniques like spot UV, foil stamping, matte or glossy finishes, etc. A card that has been professionally printed looks better and feels more substantial and robust.
REGULARLY UPDATING YOUR CARDS
Your business cards should change as your company does. Update them frequently to reflect any alterations to your services, logo, or contact details. Your business cards will always be useful and relevant if you stay current.
BRANDING LOS ANGELES – THE BEST LOGO DESIGN AGENCY IN LA!
Are you seeking a custom logo design agency in Los Angeles that goes beyond conventional creativity? Look no further! Branding Los Angeles is your gateway to unparalleled branding experiences that redefine your brand or business identity.
At Branding Los Angeles, we don't just design logos; we create brand narratives. Our expert team of designers blends innovation, aesthetics, and market insight to create logos that tell your unique story. Don't wait! Call our team today and let's tell your story, together. 
Share This Story, Choose Your Platform!