Google Rewarding Website Owners with Mobile-Friendly Search Label
Google has officially launched their new mobile friendly label, a new update to their search engine algorithms which helps users more easily determine which sites are mobile-friendly.
After several months of testing and retesting, the new label is ready to go while Google continues experimenting with even more updates intended to create a new ranking system for mobile-friendly sites in the very near future. These algorithm changes may have significant effects, either positive or negative, on a company's branding strategies.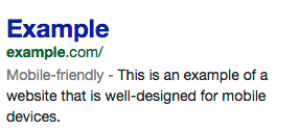 With this more recent launch, a text label is being added under the URL address that reads "Mobile-friendly". This label will be provided in the first portion of the individual snippets, although its location may change in the future. It is Google's hope that this new update will provide users with a clear direction of which links in the search engine results are more easily accessible by smartphone technology. Google is responding to growing customer frustration over widespread problems of clicking on links that simply don't read well on those smaller handheld screens.
So, the immediate question to webmasters around the world is, "How does a website qualify for this special label?" According to Google, that will depend on whether or not the GoogleBot is able to detect the following criteria:
Use of text that is easily readable by smartphones without having to zoom

Properly sizes the text and images on the screen without viewers having to scroll
Avoids software like Flash that is not commonly found on mobile devices

Places links far enough apart on the webpage so that viewers can easily tap on the proper choice
But how exactly will Google determine if a URL follows these seemingly simple guidelines? Google has been hinting for quite some time that they fully understand mobile technology. Proof of this is in their recent launch of Mobile Usability Reports which help webmasters determine potential problems with their mobile websites.
Google also recommends self-testing with their new Mobile Friendly Test tool and perhaps some third-party options as well, just to be safe. Users will begin to see the new changes immediately.
Share This Story, Choose Your Platform!