Many new dentists begin their practice with a great deal of excitement, only to quickly discover the need to have a highly successful online marketing strategy.  This is not exactly what most dentists anticipate during all those hard years of college education.   After all, if you wanted to become an Internet Expert, you would have chosen a different course of study.  But luckily, there are many professional website design experts with specific expertise in the area of dentistry.
The Website Design
All dentists need a well-maintained website, but the website also has to land in the top of the search pages of Google, Yahoo, and Bing if you are actually going to get any new customers.  This takes a bit of skill and careful planning in the area of SEO, or Search Engine Optimization.
And the rules and guidelines for SEO are constantly evolving and changing.  A website that appears on the front page today could disappear altogether tomorrow without the proper attention.  Branding Los Angeles will keep you at the top of the search engine rankings so that you can focus on what you do best, providing gentle touch dentistry services to the families in your local community.
Once you open any business, you are immediately at risk of being targeted by your competition for reputation sabotage.  In this age of instant digital access, anyone can post a negative review on a website about your practice, whether it is true or not.  Sites like RipOffReport allow anyone and everyone to post disparaging remarks immediately and without proof.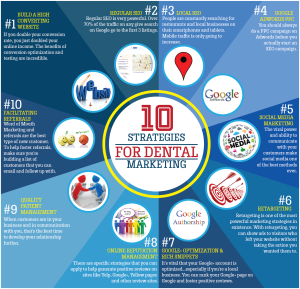 Branding Los Angeles will monitor your online professional reputation.  If comments like these begin to appear and negatively affect your marketing strategies, we can either get them erased or make them considered irrelevant by the search engines so that your practice remains at the top of the search engine page results.  Every dental office should be concerned about reputation management, and we can help as part of our standard IT maintenance packages.
Branding Los Angeles is a full service Dental Marketing Firm based in Los Angeles, contact Branding Los Angeles for information on how our team can support your practice. (310) 479-6444