Are QR Codes Here to Stay?
Thanks to technology, people are now using their smartphones more than ever. Being able to do so many things in a matter of seconds and accessing information makes it easy for anyone to do. One of the latest advancements in technology are quick-response codes, otherwise known as QR codes. QR codes have become highly desirable for a number of businesses and for a number of different purposes. And while QR codes have been a thing in a number of Asian countries for years, they have become increasingly popular in North America, which was accelerated due to COVID-19.
QR codes can be read and accessed using mobile devices, which eliminates contact with high-touch surfaces. If you have been to a restaurant within the past year and a half or so in the states, then it is likely that you have experienced the use and ease of QR codes. QR codes promote interaction and engagement through your own mobile device, which is instantaneous and has become a great form of marketing for businesses of all industries. But you will soon learn that the use of QR codes do not just stop at using them for restaurant menus. In fact, there are a great number of ways to use them.
---
How to Scan a QR Code: 
Both Android and iOS devices have the capability to scan QR codes, either through the camera or an app that can be downloaded to the device.
Unlock your device (Android or iOS)

Using either your device camera or a downloaded app, hover your camera lens over the pixelated pattern that makes up the QR code to scan

You will be prompted to either a link to click or directly to the website or application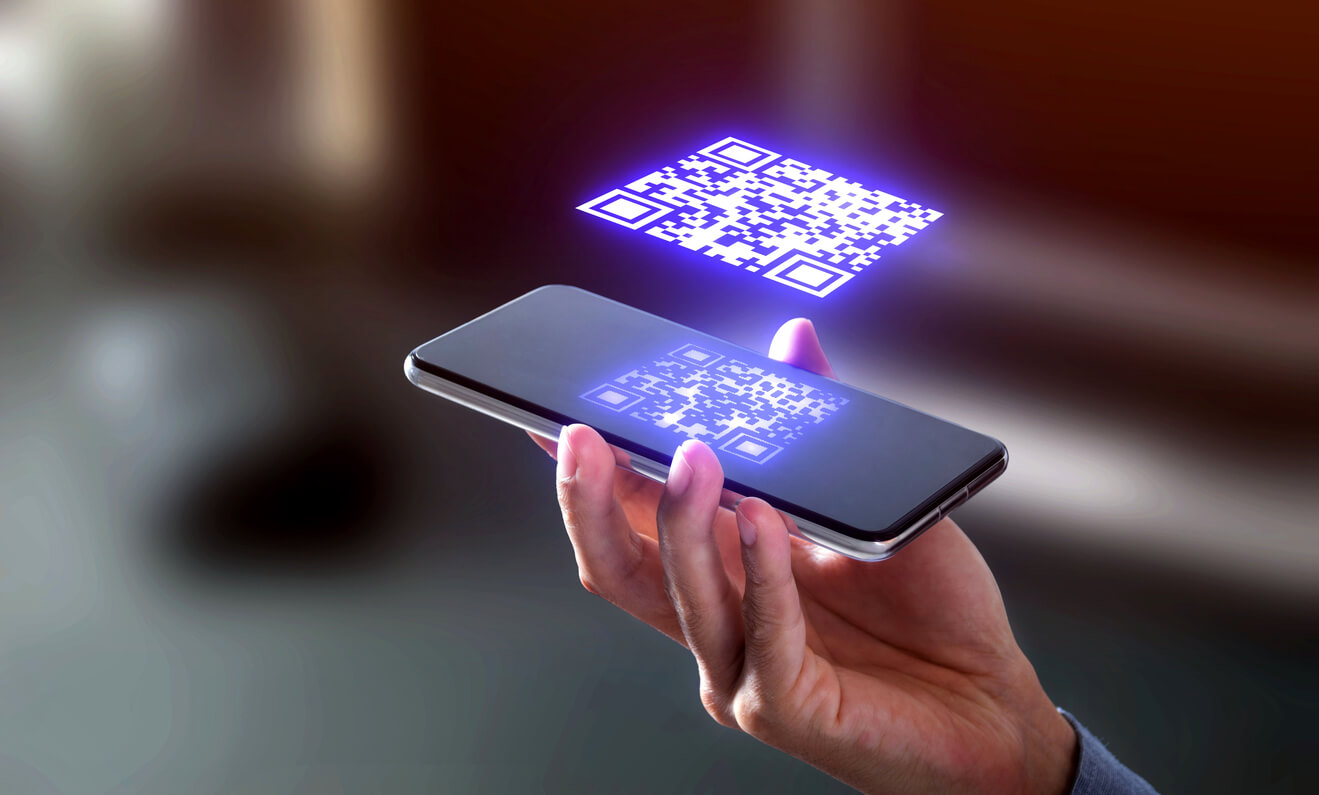 15 Reasons Why QR Codes are the Present and Future of Business Marketing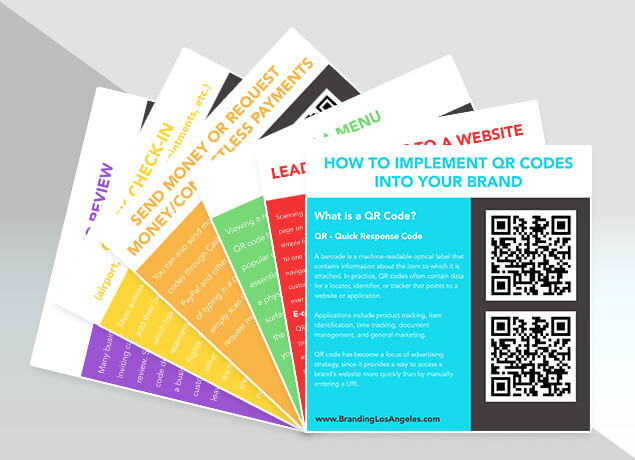 1) Lead Customers to a Website
Scanning a QR code can direct customers to any page on a website or landing page, making it simple for one to go to a page directly as opposed to one having to type it in the search bar and navigate through the website. You can even lead customers to a sign up page, making it easier than ever for customers to take action.
---
2) Dial the Number of Your Business
Another great use of QR codes is to allow customers to scan the code, which will then allow them to receive your business information, such as your contact number and more. You can even make it so that the number is dialed on the receiver's phone.
---
3) Send a Message
Once the QR code has been scanned, this can allow users to receive messages from your business, which can be used for a number of purposes, including sales, customer support, and much more.
---
4) Send an Email
Similar to sending a message, QR codes can also be used for newsletters, email marketing, and more. You can even monitor data this way to see your email's performance rates.
---
5) Download an App
Downloading an app makes it easier than ever with the use of QR codes. The QR code can direct users to the download page of an app and begin the download. 
---
6) Send Money or Request Money = Contactless Payments
You can also send money using QR codes through Cash App, Venmo, PayPal and other finance apps. Instead of typing in a person's username, simply scan their QR code to send or request money. 
---
7) Promotes Engagement
Businesses place QR codes in magazines, on business cards, web pages, and other marketing materials to promote engagement and share information easily with consumers. Even social media apps, like Snapchat and Instagram, use QR codes to add other users easily, making the experience user-friendly and interactive. 
---
8) E-Commerce
QR codes are often placed on packaging or promotional materials, which provide a simple and efficient way for customers to access an online store directly from their mobile device. This also provides an easy way to provide special discount codes to returning clients.
---
9) View Business Location
Many businesses have implemented QR codes on their websites for customers to view their business location. Instead of having to manually search for your business on their map, the QR code can provide specific directions on how to get to your business location. 
---
10) Direct Customers to Your Social Media Pages
Another great way to use QR codes for marketing your business is allowing customers to scan a QR code that leads them to your social media pages for updates. You can even offer a promo or discount if they follow your social media pages using that same QR code.
---
11) Quick Check-In (Airport, Waitlist, Medical Appointments, etc.)
Most airlines now allow passengers to add their boarding pass to their phone, which has a QR code on it, making it a seamless and quick way to check-in for flights. QR codes can also be used for other check-ins, such as restaurant waitlists or for medical appointments, creating a contactless and efficient notice of being ready and available.
---
12) Invite to Review
Many businesses utilize QR codes by inviting customers to leave them a review. Sometimes you may see a QR code decal on the door or window of a business, making it easy for customers to access a review site and leave their feedback.
---
13) View a Menu
Viewing a restaurant's menu using a QR code has become increasingly popular during COVID-19 times. This essentially eliminates the need to touch a physical menu that is a high-touch surface. Simply scan the QR code and the restaurant's menu will appear on your screen. 
---
14) Contactless Payment Methods
Another great purpose for QR codes are contactless payment methods. This way, you do not need to touch a device using your debit or credit card or you don't have to use cash. This means that making a payment can be done quicker than ever.
---
15) Join a WiFi Network
You can show guests a QR code that allows them to join your WiFi network without having to enter a password.
---
There is an ease and convenience with QR codes that is quickly becoming the "norm" and a part of everyday life. Businesses are continuously finding new ways to incorporate QR codes into their marketing strategy, bringing in new business, as well as recapturing old business with remarketing strategies through these unique codes.
What Are the Benefits of QR Codes?
There are a plethora of ways you can implement QR codes into your business. And at the end of the day, QR codes have many benefits and different uses. There is certainly no shortage of ways to use QR codes and the many ways that are mentioned above are not even all of them! QR codes have certainly revolutionized user-friendly ways for customers to interact with your business and if you haven't implemented for your business, then now is the time! 
How Do I Advertise a QR Code?
There are a number of ways you can advertise a QR code, including but not limited to:
Adding a code near your email signature

Using codes for advertising

Including a code on your business card or postcard

Adding a code on the outside of your business location

Attaching a code to products on your store
There is certainly no shortage of ways you can advertise a QR code, as there are many creative ways you can do so. QR codes have definitely revolutionized the way many different companies do business and benefits everyone involved, as it is easy to use. 
Are QR Codes Free?
QR codes can be completely free to use; however, if you would like to generate your very own static QR code, you can either do so at no cost or have one generated online at a cost.
In summary, we've gained a new marketing avenue that all industries can benefit from. They may have been introduced long ago, but QR codes have been reintroduced and are here to stay. QR codes are "King." 
Share This Story, Choose Your Platform!