"Online Santa Monica marketing is at the forefront of the marketing industry. We are experts in communicating to the public the value of the product or service that your company offers."
 In today's hyper-competitive world, where companies vie for a foothold in their respective industries, it is important to have a marketing team that understands the demands of having a visible brand. At Branding Los Angeles, or dedicated team of marketers are adept at gaining visibility for your brand and creating an organic industry buzz for your product or service.
Our team of skilled marketers combines a breadth of experience in various niche marketing areas to offer our clients the most cutting edge marketing solutions available. Our proprietary marketing mixes have been developed through decades of experience and have been perennially refined over the years to create the most effective marketing solutions available. Our experience has developed into an industry acumen that is unsurpassed by any Santa Monica marketing firm.
Our roster of clients boasts some of the most prominent brands on the market.
Our clients span the gauntlet of industries, from fashion, to the medical field, the restaurant business, and more. Thus we have established a wide range of knowledge that we are ready to apply to your brand.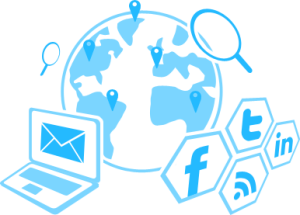 Today's business world is more inward bound than ever before. That means that people are doing the research and coming to you, instead of the other way around. What that translates to is a need for a strong online presence. For that reason, we put a great deal of our efforts into our social media marketing campaigns. We have the relevant industry knowledge to sustainably grow your brand.  
 Santa Monica Marketing Company

At Branding Los Angeles, we harness the strength of an integrated approach of marketing techniques to build your online visibility. Our team works side by side with our clients to coordinate a calculated approach to establishing your presence and growing your brand. If you are interested in taking your company to new heights, come see what Branding Los Angeles can do for you.