Snapchat Update Allows Users to Alter Reality
On Tuesday, November 8th, Snapchat released an update to iOS and Android that allowed users to modify the reality around them.
Previously, Snapchat filters were used on the rear-facing camera to recognize facial features and alter them. Now, using the outward-facing camera, users can tap anywhere on screen to access this new assortment of filters. These filters, labeled World Lenses, are applied to the surrounding location in real-time. You can augment the reality around you with snowflakes, your favorite rainbow vomiting clouds, and many of your favorite regular Snapchat filters.
Snapchat's First Hardware Product
The social-media giant that boasts 150 million daily users, 15 million more than Twitter, is preparing for the launch of its first hardware product. The update from Snap Inc., the now parent company of Snapchat, also included the support for their new product, Spectacles. Spectacles are a pair of glasses that connect via Bluetooth to the Snapchat app. They use a 155 degree-angle lens, giving the user a wider view than a smartphone camera.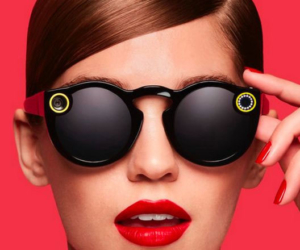 Spectacles will allow users to be hands free and more interactive with the things and people around them.
With the touch of a button, users are able to record up to 10 seconds of video. Evan Spiegel, Snap Inc. CEO, stated when he first re-watched the footage from Spectacles, he felt as if he was reliving his own memory. Spectacles give users the ability to save and share memories in a first person view. Evan Spiegel says the product will begin with a limited roll out in order to determine its fit in the marketplace. Spectacles are to be released this fall and are said to be listed at a price of $149.99.
Recent reports have placed Snap Inc.'s value between $16 and $22 billion.
Both the new addition of the new World Lens filters and Spectacles are just the beginning for Spiegel and Snap Inc. He looks for the company to evolve into more than just a social-media app; rather, he sees his company as a camera company. Spectacles may be the first step in expanding and re-branding Snapchat from a social-media company to a camera company.
Save
Save
Save
Save
Save
Save
Save
Share This Story, Choose Your Platform!