Snapchat Releases New "Memories" Feature
Snapchat recently came up with a new feature, Memories, which allows users to not only save their snaps outside the 24-hour period, but re-share them in the future. Originally, the user would only be able to save their photo to their smartphone's camera roll, but now they are able to save it within the app and share them with others later on. A Santa Monica Marketing Company will say that this tactic will keep users more engaged in the app since they can go back and view previous photos and videos.  
Not only can a user now re-share photos, but they can also find old photos and videos based on the content, place it was taken, or the date.
Snapchat created a new object recognition technology that is able to sort photos based on the visual content. Similar to Apple Inc. and Facebook Inc., Snapchat is advancing in its technology to create a better and easier experience for its users. Asides from sharing your memories, there is also a section for private photos that the user can only access with a passcode.
After updating Snapchat, the user is able to view all your saved snaps with a simple swipe up their phone's screen. An indicator that the snap is older than the day it was posted will be a frame around the photo or video.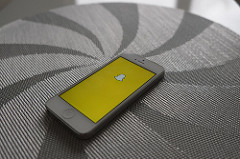 Unlike the old Snapchat, which established on sharing photos only temporarily, the new Snapchat allows users to save their photos and not have them disappear once the 24 hour time span is over. This gives users a reason to linger on the app and utilize it more.
This isn't the only major update that Snapchat has made; they have also added a Live Stories section in addition to a Discover section, which makes it easier for people to stay connected with what goes on around them.
Both Snapchat's users and value continue to grow, which indicates that the marketing strategies conducted by the company have been effective.
In the following video, you can watch the official introduction for Snapchat's new "Memories" feature.
https://www.youtube.com/watch?v=nm1RfWn0tQ8
Share This Story, Choose Your Platform!